I'm standing in Circuit City waiting for the customer service rep to bring back my newly purchased Optoma DLP Projector. My back is getting a little soar from leaning on the counter with my right elbow, so I switch to the left elbow. The view of the other side of the store is no more entertaining than the other side. Perhaps if I switch to just leaning my back directly against the counter, I will find something more interesting. (sigh of relief) AHHHH! There we go: Monday Night Football. Great! New England is beating the crap out of Minnesota. It's a good ol' fashioned beat down on Monday night.
Wait! That's not why I'm here though. Where's my projector? The stock boy comes out from the back and tells me that they must have it on the floor. I continue to wait patiently. After all, I came here for that sweet Optoma HD70 that I blogged about earlier in the day. I'm waiting and waiting.
They must have it somewhere in the building. I received an email notification from circuitcity.com stating that the item was in stock at the Valencia store. I went by during lunch and they told me that there was one in stock. I just handed him my American Express 15 minutes ago, and it was still in stock. Finally, David comes back with the great news: "We don't have it in stock".
Now, here is what is rather humorous about this situation. There were three different sources that said the item was in stock: email notification, the website, and their very own inventory system at the store that was supposed to have it in stock. Yet nobody at the store can find the item. You just gotta laugh about a situation like that. I'm thinking that someone who works at the store is probably selling the thing on eBay right now for $800+ bucks. I'm wondering what would have happened if I had ordered this online and opted to pick it up from the store? Would it be more of a hassle to get them to charge back the card? Oh well, no Optoma HD70 for me, and certainly no sale for Circuit City.
The best part is that I received a customer survey print out on my original receipt. After I had David, the customer service rep, charge back my Amex, he handed back my original receipt. This is where I really get to enjoy the situation. Sure, I could have gotten pissed about the whole situation. I could have yelled at the poor guy behind the counter and told him that their inventory system was messed up. I could have made his night suck and his manager's night suck. What would be the point? Instead, I get to tell some guy who reads these surveys about how dissatisfying the experience was and hope that they send me a gift card or something like that for their screwup :-D
Here's something else that is funny and sad at the same time: circuitcity.com still shows the item as in stock at the Valencia store :-(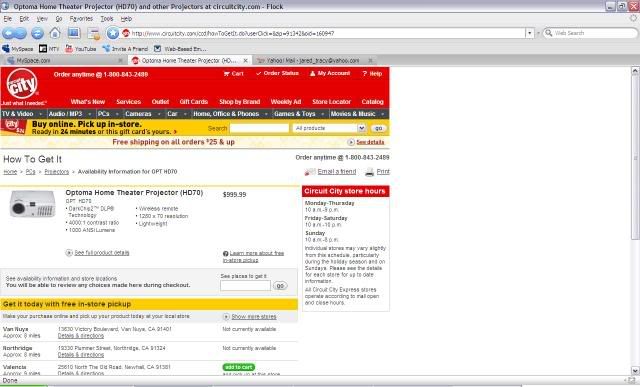 circuitcity.com Consumer Electronics
Blogged with Flock
technorati tags:rants, projectors, electronics, stores, valencia, shopping, optoma, DLP
Blogged with Flock